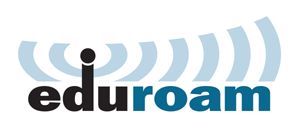 L'Università per Stranieri di Siena aderisce alla Federazione Italiana Eduroam, il cui scopo è quello di "facilitare l'accesso alla rete GARR e alle altre reti ad essa connesse agli utenti mobili (roaming users) delle organizzazioni partecipanti (servizio Eduroam)".La Federazione fa parte a sua volta di una Federazione internazionale a cui partecipano vari organismi di numerose nazioni.
Attraverso Eduroam i visitatori provenienti dalle istituzioni aderenti possono connettersi alla rete Wireless (wifi) dell'Università per Stranieri di Siena usando le credenziali fornite loro dalla propria organizzazione.Nello stesso modo, gli utenti dell'Università per Stranieri di Siena possono accedere alle reti wireless Eduroam presenti nelle sedi degli organismi nazionali ed internazionali aderenti alla Federazione usando le credenziali in proprio possesso
In particolare la username (o nome utente) deve essere inserita nella seguente forma: username@unistrasi.it
L'accesso al servizio eduroam è consentito a tutti gli utenti universitari con le credenziali fornite da organismi afferenti a Eduroam.
L'SSID "eduroam" è presente presso tutte le strutture dell'università per Stranieri di Siena Si ricorda che la policy di sicurezza dell'Università per Stranieri di Siena prevede che gli utenti che si collegano alla rete wireless d'Ateneo possono utilizzare solo i protocolli:
IPSec VPN: protocolli IP 50 (ESP) e 51 (AH) in entrata e in uscita e UDP/500 (IKE);
OpenVPN: UDP/1194;
IPv6 Tunnel Broker service: protocollo IP 41 in entrata e in uscita;
IPsec NAT-Traversal: UDP/4500;
Cisco IPSec VPN over TCP: TCP/10000 in uscita;
PPTP VPN: protocollo IP 47 (GRE) in entrata e in uscita e TCP/1723 in uscita;
SSH: TCP/22 in uscita;
HTTP e HTTPS: TCP/80 e TCP/443 in uscita;
IMAP4 e IMAPS: TCP/143 e TCP/993 in uscita;
IMAP3: TCP/220 in uscita;
POP3 e POP3S: TCP/110 e TCP/995 in uscita;
(S)FTP passivo: TCP/21 in uscita;
SMTPS: TCP/465 in uscita;
SMTP submission via STARTTLS: TCP/587 in uscita;
RDP: TCP/3389 in uscita.
Parametri di configurazione per l'accesso alla rete
SSID

: eduroam

Autenticazione

: 802.1x con protocollo PEAP o TTLS

Protezione password

(autenticazione fase 2): MSCHAP v2

Credenziali di autenticazione:

identificativo comprensivo del dominio di appartenenza (es. n.cognome@unistrasi.it) e relativa password

---
The University for Foreigners of Siena adheres to the Eduroam Italian Federation, whose purpose is to "facilitate access to the GARR network and the other networks connected to it to mobile users (roaming users) of the participating organisations (service Eduroam)". The Federation, in turn, is part of an International Federation with the participation of various bodies of many nations.
Through Eduroam, visitors coming from member institutions can connect to the wireless (wifi) network of the University for Foreigners of Siena using the credentials provided by their own organisation. Likewise, users of the University for Foreigners of Siena Eduroam can access wireless networks in offices of national and international organisations affiliated with the Federation using their own credentials.

In particular, the username (or user name) must be entered in the form: username@unistrasi.it

Access to Eduroam service is open to all university users with the credentials provided by own home institutions belonging to Eduroam.

The SSID "eduroam" is available in all the facilities of the University for Foreigners of Siena. Please note that the security policy of the University for Foreigners of Siena allows users only to use the protocols as above.