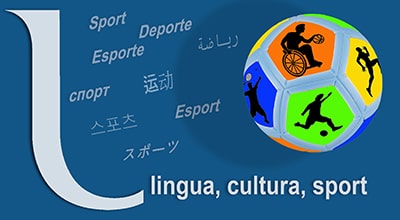 Convegno Internazionale
Dinamiche Sociolinguistiche e Interculturali nei Contesti Sportivi

Università per Stranieri di Siena
15-16 novembre 2018
Sono ancora molto limitati gli studi sistematici relativi alle questioni sociolinguistiche nei contesti sportivi. Eppure il mondo dello sport si sta configurando come un luogo investito dal contatto multiculturale e contraddistinto da una frequente e dinamica mobilità di persone, di lingue e di culture. Si pone quindi l'esigenza di descrivere le macroforme del contatto fra idiomi nel contesto sportivo attraverso ricerche capaci di associare le attività sportive alle teorie semiotiche, sociolinguistiche e didattiche dimostrandone il valore applicativo a sostegno di azioni di programmazione educativa e di sviluppo culturale del territorio. Nei contesti migratori, dove identità diverse s'incontrano, si scontrano e si ricostruiscono, lo sport, come ricorda il Libro bianco europeo sullo sport, costituisce uno strumento efficace per facilitare l'inclusione, la partecipazione e l'interazione sociale.
Lo sport è quindi un terreno di studio particolarmente interessante per riflettere sulle espressioni identitarie e ripensare il dialogo tra culture e lingue diverse. Attraverso i suoi "giuochi linguistici" Wittgenstein faceva riferimento anche allo sport inteso come paradigma di regole e non regole a cui sono legati gli usi linguistici. Nella stessa ottica Bruno Migliorini prendeva l'esempio del nuoto per descrivere la lingua come un'abilità che si distingue dalla conoscenza teorica e astratta delle regole, queste ultime, secondo lui, servono poco se la pratica viene trascurata. Il terreno di gioco può quindi essere uno spazio didattico e mediatico attraverso il quale trasmettere da una parte percorsi di apprendimento linguistico coinvolgenti, motivanti, divertenti, dinamici e rilassanti; dall'altra parte percorsi formativi e informativi in riferimento al linguaggio sportivo. Tali percorsi didattici si possono basare su vari approcci quali l'insegnamento con i task, la didattica multisensoriale, l'apprendimento cooperativo, la didattica ludica.
L'Università per Stranieri di Siena, molto attenta al binomio lingua e sport, e da anni impegnata nei vari ambiti di ricerca legati a questo tema, intende attraverso questo convegno sollecitare le riflessioni e le discussioni secondo le prospettive di vari ambiti disciplinari come la sociolinguistica, la linguistica educativa, la linguistica migratoria, la semiotica nonché i processi di mediazione, traduzione, interpretariato e in generale gli studi relativi alle aree umanistiche e sociali.
Comitato Scientifico:
Carla Bagna, Università per Stranieri di Siena
Laura Capranica, Università degli studi di Roma "Foro Italico"
Emanuele Isidori, Università degli studi di Roma "Foro Italico"
Pierre Lanfranchi, De Montfort University, The Gateway, Leicester
Sabrina Machetti, Università per Stranieri di Siena
Raffaele Poli, University of Neuchâtel
Nicola Porro, Università di Cassino e del Lazio meridionale
Raymond Siebetcheu, Università per Stranieri di Siena
Massimiliano Tabusi, Università per Stranieri di Siena
Alessandro Tortelli, Centro Studi Turistici Firenze
Maurizio Viezzi, Università degli Studi di Trieste
Andrea Villarini, Università per Stranieri di Siena
Massimo Vedovelli, Università per Stranieri di Siena
Comitato organizzatore:
Ibraam Abdelsayed, Carla Bagna, Irene Butera, Serge Defotsing, Caterina Ferrini, Sabrina Machetti, Andrea Scibetta, Raymond Siebetcheu, Tesei Azzurra.
Video interventi in Aula Magna

Modulo di iscrizione per studenti e docenti dell'Università per Stranieri di Siena: Modulo di iscrizione - Interni
Modulo di iscrizione per esterni: Modulo di iscrizione - Esterni
Per ulteriori informazioni:
Email: linguaesport@unistrasi.it
Tel: (00 39) 0577 240143
---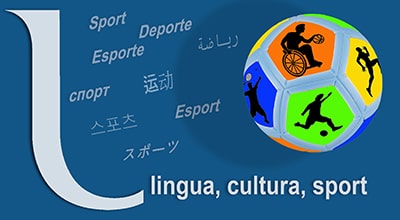 International Conference
Sociolinguistic and intercultural dynamics in sport contexts

University for Foreigners of Siena
November 15-16, 2018
Only very few works systematically deal with sociolinguistic dynamics in sport contexts, and yet sport could be considered a complex ecosystem characterized by multicultural contact determined by the frequent and dynamic mobility of people, languages and cultures. The need therefore arises to describe the macro forms of contact between languages in sport contexts through works which aim at associating sporting activities with semiotic, sociolinguistic and educational linguistic theories. Furthermore, the idea is to illustrate the value and effects of sport in support of educational planning and cultural development actions implemented in specific areas. For this reason, referring to the migration context, where different identities meet and, in some cases, clash, according to the European Commission's 2007 White Paper on Sport, sport makes an important contribution to facilitate the integration into society of migrants and persons of foreign origin as well as support intercultural dialogue. Sport promotes a shared sense of belonging and participation and may therefore also be an important tool for the integration of immigrants.
The link between language and sport is therefore a very interesting issue which pushes one unto reflecting about identitarian expressions and to rethink integration of immigrants and all citizens. Through the concept of language-games, Wittgenstein also reflects on sport, considered as a rule and non-rule paradigm, related to language uses. In the same vein, Bruno Migliorini uses swimming to describe language as an ability that distinguishes itself from the theoretical and abstract knowledge of the rules which, according to him, are not useful if the practice is neglected. There is therefore a clear link between sport and the need to learn and practice languages in a dynamic, engaging, motivating, playful and relaxing way. These best practices in language learning could be linked to different approaches, for instance task-based learning, multisensory learning, cooperative learning, playful learning.
The University for Foreigners of Siena, whose research areas also focuses on language dynamics on sport, intends through this international conference, to produce reflections and discussions focusing specifically, but not exclusively, on the perspective of educational linguistics, linguistic effects of immigration, semiotics, interpreting and mediating processes.
Scientific Committee:
Carla Bagna, Università per Stranieri di Siena
Laura Capranica, Università degli studi di Roma "Foro Italico"
Emanuele Isidori, Università degli studi di Roma "Foro Italico"
Pierre Lanfranchi, De Montfort University, The Gateway, Leicester
Sabrina Machetti, Università per Stranieri di Siena
Raffaele Poli, University of Neuchâtel
Nicola Porro, Università di Cassino e del Lazio meridionale
Raymond Siebetcheu, Università per Stranieri di Siena
Massimiliano Tabusi, Università per Stranieri di Siena
Alessandro Tortelli, Centro Studi Turistici Firenze
Maurizio Viezzi, Università degli Studi di Trieste
Andrea Villarini, Università per Stranieri di Siena
Massimo Vedovelli, Università per Stranieri di Siena
Organizational Committee
Ibraam Abdelsayed, Carla Bagna, Irene Butera, Serge Defotsing, Caterina Ferrini, Sabrina Machetti, Andrea Scibetta, Raymond Siebetcheu, Azzurra Tesei
For further information
Email: linguaesport@unistrasi.it
Tel: (00 39) 0577 240143